In Full Swing Thrift Store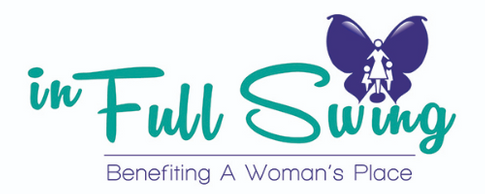 New hours at In Full Swing Thrift Store:
Store Hours: Tues.-Sat. from 10am-5pm
Donation Hours: Tues.-Sat. from 10:30am-4pm
NEW donation policy: any donations larger than 8 bags of clothing, shoes, and accessories will require an appointment. We are not accepting any bins, boxes, or hangers. Call 215.340.0120 to schedule an appointment. 
VOLUNTEER at In Full Swing!
Join our team of phenomenal volunteers at In Full Swing! Volunteers assist with sorting donations, creating store displays, cleaning & organizing store areas, and providing customer service. Our volunteers bring such creativity, enthusiasm, & dedication to In Full Swing and A Woman's Place - we are beyond grateful to have them as a part of our AWP family!
---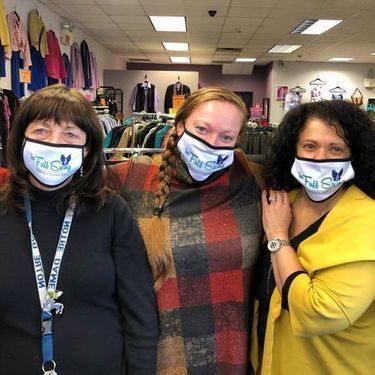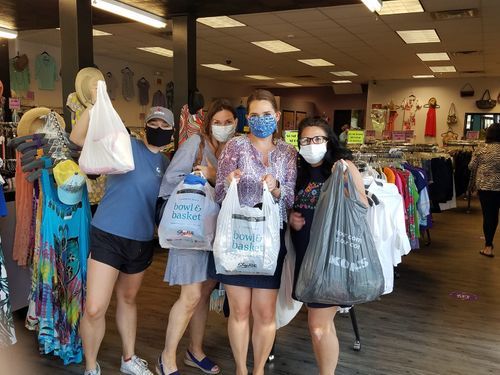 AWP's thrift store, In Full Swing, makes flourishing lives possible. The store accepts donations of clothing, shoes & accessories (women's, men's, and children's) and a variety of decorative housewares. 100% of all proceeds support AWP programs & services, and all clients of A Woman's Place shop at In Full Swing for free. 
For more information about In Full Swing, contact our team:
Donna Fedorak, Director of Retail Operations - Dfedorak@awomansplace.org
Lara Brown, Assistant Store Manager - Lbrown@awomansplace.org
Store Phone: 215-340-0120
---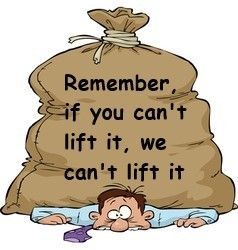 Donating to In Full Swing
In Full Swing appreciates your donations.Please do not leave any donations when store is closed. When dropping off donations our friendly staff is always ready to assist you. When bringing your clothing donations, we request that they be brought in clean bags.
WE ACCEPT:
All clothing (including vintage and costumes), shoes, handbags, & accessories
All jewelry
NEW underwear & socks
Decorative housewares - glassware, pottery, new candles, wall art, collectibles, vintage items, etc.
Multimedia - DVD's, CD's, & records
NEW toys only
Sealed puzzles & games
Children's Books (children's books ONLY please)
NEW bedding, sheets, linens, & pillows
WE DO NOT ACCEPT:
Hangers (any type)
Damaged items of any kind
Pre-owned bedding, sheets, & pillows
Pre-owned electrical items, anything battery-operated or with a cord
Pre-owned kitchenware (pots & pans, utensils, dishware, tupperware, etc.)
Books
VHS tapes
Questions about your donations? Please call us at the store at 215.340.0120 and we'll be happy to support you with next steps.
Recycling at In Full Swing
We also accept unwearable clothing for recycling. After you drop off your donation, give yourself a treat and shop for great values...and enjoy knowing that your dollars support making the community safer for everyone!  
---
Follow us on Facebook and on Instagram to see our sales, specials, and the great things we have in the store!
---
225 West State St., Doylestown, PA 18901
215.340.0120
Shopping hours: Tuesday - Saturday 10am - 5pm
Donation hours: Tuesday - Saturday 10:30am - 4pm ONLY