"I signed up for YAAB because I think it's a great cause and a great way to get involved and give back to the community. I love the idea of having a voice in something at such a young age, especially with an issue that affects so many people worldwide. I hope to make a difference with someone, somewhere in the community, and hope to gain experience with working in a group and seeing the lives of others."—Bucks County 11th grade student and YAAB member
---
A Woman's Place (AWP) Young Adult Advisory Board (YAAB) is a group of passionate and creative youth leaders (grades 9-12) dedicated to raising awareness about dating violence among their peers and helping AWP create a safer Bucks County.  They do this by informing decision-making at AWP and working alongside staff to plan various awareness campaigns, events, and speaking engagements, including AWP's Annual Breakfast & Community Recognition Ceremony.
Members work independently to meet goals throughout each month and prepare for a monthly meeting during which all members will share what they've been working on, brainstorm future projects together, and learn more about the inner workings of nonprofits like AWP.  This is a great leadership opportunity, and despite the seriousness of this topic, a fun way to work together with teens across Bucks County!
For more information or to sign up for YAAB, contact Community Educator, Kristen Kane, at 443-593-9839 or Kkane@awomansplace.org.  
---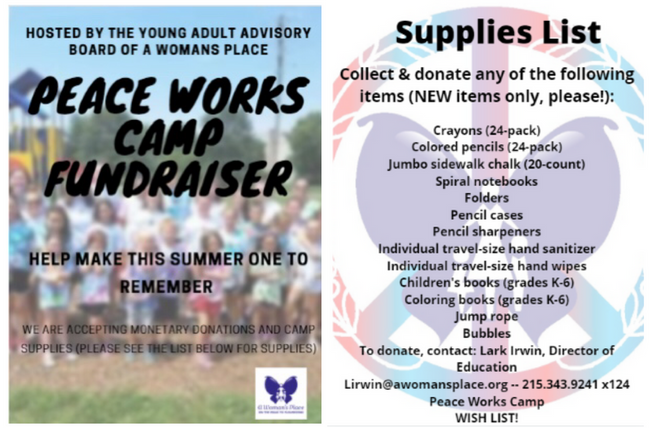 The Young Adult Advisory Board (YAAB) is proud to support AWP's Peace Works Camp by hosting a fundraiser for camp supplies supplies.  To make this a summer to remember, we are asking for monetary and supply donations.  If you would like to help, please refer to the supplies list or visit the donation site HERE.  We appreciate and thank you for any contribution.  Please contact Kristen Kane at kkane@awomansplace.org for questions and/or concerns.