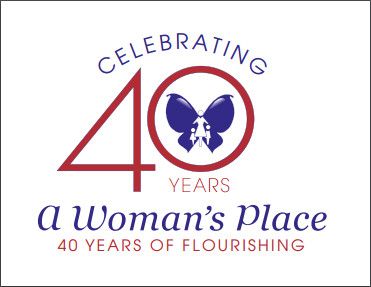 A Woman's Place - The First Decade
1976 - 1985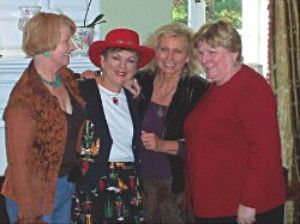 Safety for Bucks County
The idea of A Woman's Place (AWP) began in the summer of 1976. AWP's Founding Mothers, Mary Jane Kirkpatrick, Patricia Garrett (Groff), and Doris Payne were strongly involved in the women's movement and held monthly National Organization for Women (NOW) meetings and programs. While promoting their upcoming meeting focusing on domestic violence, the Founding Mothers began receiving calls from women in need of DV resources and even shelter. A close investigation showed that Bucks County was void of a place for these women to seek assistance, as well as a system to address the overall problem.
Pat Garrett and her husband Rich Groff had a storefront building in Sellersville which the Founding Mothers converted into a women's center. The store at 108 N. Main Street became known A Woman's Place. The apartment located in back was transformed into Bucks County's first domestic violence safe shelter.
Founding Mother, friend, and volunteer, Carole Alexy took the first phone call on a cold, wet December afternoon. Open 3 days a week, AWP provided walk-in information, referrals, and support for those facing domestic violence. At the start, AWP was funded solely by private donations. The Founding Mothers fundraised by selling T-shirts, crafts, paintings, and photographs.
An apartment above the storefront was transformed into a safe shelter when its first residents came on Christmas Eve in 1976. A local newspaper story about AWP listed the women's phone numbers, and on Christmas Eve morning Pat Garrett received a call from a local police department, reporting on a woman and her two children in need of immediate help and shelter. By that night, the shelter was ready and the family was safe. During the first year, 25 families found sanctuary in the Sellersville apartment safe shelter.
That same year, Women's Centers and women's groups from across Pennsylvania gathered in Harrisburg to testify for the need for the Protection from Abuse Act. A Woman's Place became a founding member of the Pennsylvania Coalition Against Domestic Violence (PCADV). In November 1976, Pennsylvania Governor Milton J. Shapp signed Senate Bill 1243, the Protection From Abuse Act, into law.
Up and Running
In 1977, AWP was incorporated as a non-profit tax exempt corporation and the organization received its first grant from the Grundy Foundation. The Founding Mothers turned operations over to the organization's first Board of Directors and volunteer staff.
1978 saw AWP hire its first case manager to counsel women and children in the shelter and provide court accompaniment. That same year, the Bucks County Commissioners approved a two-year lease of a larger shelter for AWP, at the rate of $1 per year. Included in the cost were maintenance and security guard protection. The County Commissioners' support continued when they provided needed funds for a building expansion. A toll-free hotline for Lower Bucks County was installed in 1979 and AWP's first domestic violence support groups were established in 1980, providing a caring and sharing environment for victims who once saw themselves up to that point as completely alone.
Bucks County recognized Domestic Violence Awareness Week for the first time October 10 – 16, 1983. AWP adopted its Butterfly Logo in 1984, the year AWP's Children's Counseling Program was started with the hiring of a Children's Advocate. The safe shelter continued to expand, with a renovation in 1983 and rooms added in 1985.
A Woman's Place - The Second Decade
1986 - 1995
Growth
AWP's second decade started with a further safe shelter expansion in 1987. The residents' kitchen facilities, dining room and living room were expanded, a children's play room added as well as five new bedrooms and two baths – the shelter was equipped to house seven families at a time. Six offices and a small kitchen were created for staff.
In 1987, AWP hosted "A Walk for Women" on the "National Day of Unity" to kick off Domestic Violence Awareness Month in October.
A huge stride forward was made when amendments to the state's Protection From Abuse Act were approved, expanding the parameters for those filing and allowing for Pro Se filing (without an attorney), which greatly increased access to those seeking relief. These amendments also necessitated changes to volunteer training, resulting in a standardized program for AWP with defined goals. In 1988, AWP's 65 direct service volunteers provided 356 hours of assistance per month. The following year, the Legal Aid Domestic Abuse Project was established – a joint project between AWP and Legal Aid, the Project provided services to those seeking protection from abuse orders (PFAs). AWP established its first community-based Children's Support Group in 1990 along with its 24-hour, 7-days a week hotline number: 1-800-220-8116.
By the end of 1990, AWP's fiscal year records showed a 30% increase in total clients and a 39% increase in calls to the hotline. The total number of clients for Fiscal Year 1989-90 is 2,894 –more than double the total number of clients from just four years earlier. AWP's "computer age" began with the purchase of 4 new computers.
AWP's foray into retail began in 1992 with the opening of the Full Circle thrift store in New Britain. That same year, AWP adopted the Purple Ribbon Campaign for domestic violence awareness. More support for clients was offered with the initiation of AWP's community based 1-to-1 counseling program in 1992 and a support group for teens experiencing dating violence in 1993.
Protection against domestic violence was bolstered when the Violence Against Women Act became law in 1994 and amendments to the PFAA were enacted including expanding the definition of abuse to include stalking; requiring police departments to adopt a written DV policy; ensuring that valid PFA orders issued in other states could be registered and enforced in Pennsylvania; and mandates that plaintiffs are to be notified of the arrest or pending release when defendants have violated an order. In 1995 The Bucks County Violence Prevention Task Force was established and AWP's Bristol office was opened.
A Woman's Place - The Third Decade
1996 - 2005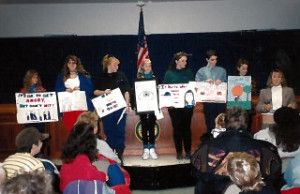 Safety For All
AWP's third decade saw the creation of AWP's School Prevention Program in 1996, with a pilot program in elementary and middle schools aimed at preventing abuse in the next generation. That same year AWP hosted the inaugural Chocolate Lovers' Fantasy fundraiser, Bucks County's most delicious event.
Two years later AWP's prevention activities continued to expand through the creation of the Medical Advocacy Project at Warminster Hospital, offering counseling for victims and training for staff training. AWP's First Response Team pilot project was started that same year with the Warminster Township Police Department.
More fundraising events took off in 1998, both internally, with the First Annual Community Awards Dinner and in the community with student groups from Central Bucks East and West hosting dance marathons to benefit AWP.
AWP saw strides in 1999 regarding domestic violence regulations when the Bucks County Legal Issues Work Group adopted the Domestic Violence Protocol for Bucks County police jurisdictions, the Medical Advocacy Project collaborating with Bucks County Health Improvement Project expands to serve all seven acute care hospitals in Bucks County, and AWP's First Response Team expanding to the Bensalem Township Police Department.
The first Health Cares about Domestic Violence Day was celebrated in Bucks County, as members of the healthcare and domestic violence communities work the educate others about the critical importance of routine screening for domestic violence, as well as the long term health implications of domestic violence and lifetime exposure to violence.
The start of the new millennium in 2000 saw the Bucks County Adult Probation and Parole Department establishing the Batterers' Intervention Project to address the violence of domestic violence offenders. AWP's safe shelter received a new playground for its young residents. AWP's Placard Project was initiated, and domestic violence information was placed in select county office buildings and the courthouse – starting in 2001, that information was placed in all county buildings.
2001 also saw the creation of AWP's Civil Legal Assistance Program, providing free legal representation to AWP clients in matters such as divorce, support, custody, welfare, eviction, unemployment, immigration issues, and bankruptcy. Over the years, this program has given hundreds of clients a voice in the justice system that they would not have had otherwise.
AWP's website, www.awomansplace.org was launched in 2003.
2005 was a somber year in Bucks County's history. During the 6 month period from April to October of that year, there were a series of domestic abuse related homicides resulting in the deaths of twelve people in our county. The sheer volume of deaths in such a short period, as well as the fact that they occurred in areas and among families not perceived as high risk by the general community, were catalysts for action. In response to the shock and concern felt throughout the community, the District Attorney's office convened the Bucks County Domestic Violence Fatality Review Commission in October 2005 with the mission to "prevent deaths from intimate relationship violence by utilizing a systematic confidential, multi-agency review process, and to identify system gaps in order to expand effective violence prevention and coordination strategies."
More advocacy was needed in 2005 when President George W. Bush's proposed federal budget eliminated a key source of anti-domestic violence funding, the Victims of Crime Act monies. Thanks to generous local funders, AWP's programs were kept intact. AWP joined with domestic violence organizations across the country to successfully advocate for VOCA's inclusion in the federal budget.
A Woman's Place - The Fourth Decade
2006 - Today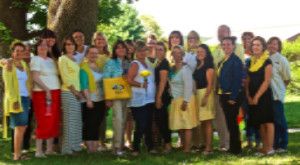 40 Years of Flourishing
The Department of Defense introduced a national public awareness campaign to "Take a Stand Against Domestic Violence" in 2006. The campaign was designed to educate service men and women and their families about domestic violence and provide a vital link to lifesaving services by connecting people to the national hotline.
AWP's new CORE (Community, Outreach, Response, and Education) training program was introduced in 2008, along with the organization's Abuse Later in Life program.
The District Attorney's office published the Bucks County Domestic Violence Fatality Review Commission Final Report in 2008, and as a direct result, AWP increased resources toward community education, prevention and trainings, while not decreasing direct services. Findings of the Bucks County Domestic Violence Fatality Review Commission revealed that only one of the 2005 domestic violence fatalities in the study had contacted AWP, and she had called only once. The organization determined that information about interventions and safety planning needed to be in place wherever victims turn in the community for help.
The interest of community teens in keeping themselves and their friends safe in relationships was evident with the formation of AWP's Teen Advisory Board in 2009. Now called the Youth Adults Advisory Board, this invaluable group continues to raise awareness in their schools about safe dating and AWP's services. In 2010 the teens organized AWP's first annual Walk To Empower – a two-mile walk through Doylestown with the participation of nearly 200 community members. The Walk To Empower became the Race To Empower, a successful fundraiser and awareness raiser the organization held for over 5 years. In 2011, the teen advisory board organized the first Dance Marathon, a 12-hour dance to raise funds and awareness.
AWP's work with the Council of Southeast Pennsylvania was strengthened in 2010 with a collaborative grant project designed to address the simultaneous treatment of clients suffering from both intimate partner violence and substance abuse.
2011 saw the implementation of the Domestic Violence Risk Assessment Tool in the Bristol Township, Pennridge Regional, and Warminster Police Departments. Crafted by AWP staff members and other members of the Bucks County Network Against Abuse in response to the findings of the 2005 Fatality Review Commission, this 11-question survey seeks to determine if an abusive situation can be lethal without a history of violence. The survey asks domestic violence victims about potential warning signs, which include drug and alcohol issues, unemployment, suicide attempts, stalking, control issues, and relationship changes. If two or more of the warning signs are present in a situation, the responding police officer contacts AWP to become involved. This collaboration between law enforcement and AWP has led to safety to thousands of victims.
In December 2011, AWP launched an online Teen Chat hotline as a way to better interact with community teens and assist them when needed.
Great new initiatives were introduced in 2012. The Thursday Night Ladies writing group was created as a way for clients to come together to motivate and inspire each other and share their thoughts and experiences. That same year AWP held its first Peace Works Camp – a day camp for students in kindergarten thru 6th grade that incorporates activities on positive self-esteem and healthy friendships. Peace Works Camp is still going strong, and has now expanded to include two, one-week sessions every summer.
AWP's The Empowerment Project was launched in 2014. The Empowerment Project, which is comprised of various programs for both adults and teens and is open to the entire community, is designed to create the conditions and build the skills needed to strengthen individuals and communities so that they may flourish.
In the summer of 2014, AWP's thrift store was renamed and relocated – In Full Swing is now located at 225 W. State Street in Doylestown. AWP's thrift store has helped thousands of clients clothe themselves and their children free of charge, while every purchase by community members supports the organization's programs.
In 2015, AWP is named one of Susan G. Komen Philadelphia's Women's Champions for its work in strengthening women. In October of that year, AWP accepted the Bucks County Commissioners proclamation declaring the month Domestic Violence Awareness month.
That May, AWP's Chocolate Lovers' Fantasy celebrated its 20th anniversary. A special live auction held during the event raised $18,900 for much needed renovations to AWP's safe shelter. Renovations take place in the fall, with extensive improvements made to the kitchen and new flooring and painting taking place. Along with donations from Chocolate Lovers' Fantasy the renovations are paid for by the generosity of John Ordway of Jules Thin Crust and donations from generous community members.
In October, AWP's Race to Empower is a collaborative effort for the first time, as AWP partners with Buckingham Friends School and the 1-mile walk and 5-mile race is held on the school's campus.
#GivingTuesday, the global day of giving, was held on December 1. AWP joined with other nonprofits around the world in raising money and awareness for philanthropy. AWP's goal of $10,000 for a new generator for the emergency shelter was shattered as over $14,000 was raised from our generous community.
2015 saw the Commonwealth of Pennsylvania suffering through a budget impasse crisis. By January of 2016, funds were released for domestic violence organizations throughout the state and thanks to sound financial management, AWP survived the impasse. Many organizations throughout the state weren't so lucky, and many essential services and staffing were put on hold for months at a time.
February 2016 saw an amazing effort by AWP's Young Adult Advisory Board (YAAB), who collected 694 signatures on a health relationship pledge during Teen Dating Violence Awareness Month.
The Empowerment Project's Women Taking Charge program saw its first cohort of participants complete the 12-week classroom portion of AWP's financial empowerment and self-sufficiency curriculum. Paired with a mentor for 12-months, participants are poised to achieve their goals.
In May, AWP's Executive Director Ifeoma Aduba was named one of the YWCA Bucks County's 25th Anniversary Salute to Women honorees.