Men For Change Pledge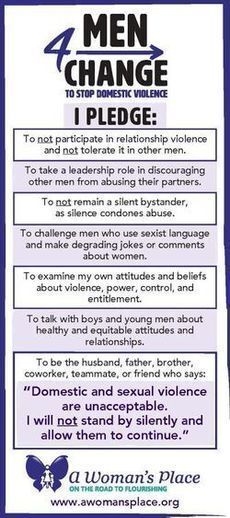 Beginning May 1, 2023, A Woman's Place is calling on the men in our community to sign the "Men For Change" pledge to stop domestic violence. The pledge is a promise to not participate in or perpetuate relationship violence and the culture that encourages it.
Research shows that one in three women and one in eight men in the U.S. will experience physical violence from an intimate partner in their lifetime. A Woman's Place served over 2,300 of these individuals each year. Our mothers, sisters, daughters, and friends could be victims of domestic violence.
Common phrases like "boys will be boys" and "he's mean to you because he likes you" teach boys that violence is an acceptable way to show emotions and teaches girls to accept this behavior. AWP wants to end this cycle and set current and future generations up for success. To do this, they need role models like you and me to guide them toward a future free from abuse.
This is not just a "women's" issue. Domestic violence does not discriminate and affects more people than you can imagine. We ask you to stand up and show your community that the cycle can be broken. Be the change that our community needs and pledge your support to end domestic violence.
A Woman's Place is on TV!
On May 22, Board member Amir Stark and Executive Director Marianne Lynch talked about the #Menforchange campaign on the PHL17 morning news. Click below to watch and learn more