46 Lessons from AWP's 46 Years

46 Lessons learned from AWP 
Random but fun facts from Director of Advancement, JL
46.  Did you know that AWP was the founding member of PCADV (PA Coalition Against Domestic Violence) that now has 50+orgs in PA?
45. It was Christmas Eve, 1976 that AWP housed its first family. Then the rest is living his(her) story...
44. AWP is the abbreviation for "A Woman's Place" that is serves all survivors of Domestic Violence. We hope it can be an:  Always Welcoming Place.
43. Our 24-hour hotline is the gateway to our organization. That means we have real-live people 24 hours a day, 365 days a year.
42. Good friendships are priceless.  We have "Founding Mothers Society' that have decades of friendship.

41. DV is short for Domestic Violence, and it is an epidemic not just in USA. It's all over the world.
40. AWP envisions to grow in diversity and inclusion.  How do you exemplify inclusion and diversity in your workplace?
39. Another value is respect.  Giving and receiving respect is imperative; no matter how we look like.
38. Healthy relationships take a lot of work. AWP's Education Team teaches this to grades 4-12 and college/university students and up in the Bucks County.
37. AWP's Counseling Services include individual, group, and children's counseling.
36. By creating positive environments and boundaries we can have bring safety and lessen harm.
35. Our Legal Services include Legal Advocacy: safety planning, legal options – filing for Protection from Abuse Orders (PFAs), court accompaniment
34. AWP is a community organization addressing a community issue, so it requires community support. Thank you to you being our community lifeline!
33. One of our services is our thrift store called "In Full Swing" on State Street, Doylestown. Volunteers are welcome!
32. Let today be the day you realize how amazing you are and fall head over heels in love with yourself. You are worthy and it's time to believe that!
31. AWP's Medical Advocacy partners with all Bucks County hospitals to provide counseling services and crisis intervention at local healthcare facilities.
30. We are the only domestic violence organization since 1976. We will be heading to 47th year!
29. When we refer to "Shelter" or "Safe House" it is the 24-hr. residential safe house for women and their children.
28. We call our survivors 'clients' and want to equip them with dignity and respect.
27. Purple is the color for domestic violence. October is 'domestic violence awareness' month so many orgs tie a purple theme.
26. DV peaks during holiday times.
25. "Kindness is a language that the dear can hear and the blind can see." Mark Twain.
24. You can help create an environment where domestic abuse is unacceptable.
23. Abuse may be emotional, verbal, sexual, financial and/or physical. 
22. You can support your loved ones simply by saying, "I am concerned and I care about you and I'm worried about your safety."
21. DV can happen to anyone regardless of gender identity, sexual orientation, age, race, religion or income. Period.
20. Engaging influential adults and peers includes allies (We will be sharing about allies in the coming months).
19. It's ok to be proud of yourself. Please don't belittle your achievements.
18. Domestic violence and abuse is a deliberate pattern of coercive behaviors used by an individual to gain and maintain power and control over an intimate partner. 
17. AWP can provide confidential & nonjudgmental services.
16. "What can I do for you right now?"  Sometimes it helps to talk through viable options to maximize their safety, and they may need assistance in reaching out to community resources.
15. You cannot get through a single day without having an impact on the word around you. What you do makes a difference."  Jane Goodall
14. Our Vision envisions a society where all individuals are safe in their relationships and can flourish.
13. Courage, Creativity, Equality, Integrity, Respect, Social Justice = AWP's Values
12. We have a total of 10 Board Members! We are thrilled to introduce our updated Board Members soon.
11. How Can I help? Fundraise with us. We value peer-to-peer fundraising and hope to grow in this area in 2023.
10. Did you know? Over 3/4 of our Leadership Staff are new to AWP these last 2 years.  We are excited to grow with you and bring some impactful his/her story for AWP.
9. In Japan, broken objects are often repaired with gold.  The flaw is seen as a unique piece of history, which adds to its beauty. Consider this when you feel broken.
8. Did you know ~30% of annual revenue for nonprofits come in during Nov and Dec. AWP is counting on your end of year support to make sure we equipped to feed our programs.
7. We highlight self-care for ourselves and mental health for all!
6. We have learned that this line of work is tough. Topics are heavy and the climate is not helping. But when we receive your donations, we get inspired!
5. Did we mention you can choose AWP as your amazon smile charity of choice? [Choose A Woman's Place, Doylestown]
4. This past year, we have served 2,200 people who have been victimized by domestic violence.
3. We teach about the "Roadmap to Healthy Relationships" that includes respect, equality, safety, and trust. Do you agree?
2. AWP shared about Safe Pets as there is a correlation of pet abuse and DV. It was widely popular for our pet lovers! (@awpbucks)
1. You may have been one of 225 volunteers this year and we thank you for your continued relationship. Let's not drift apart and we are only an email/phone call away!
---
Bucks County Herald 12-08-22 "A Woman's Place is there to help during the Holidays, and everyday"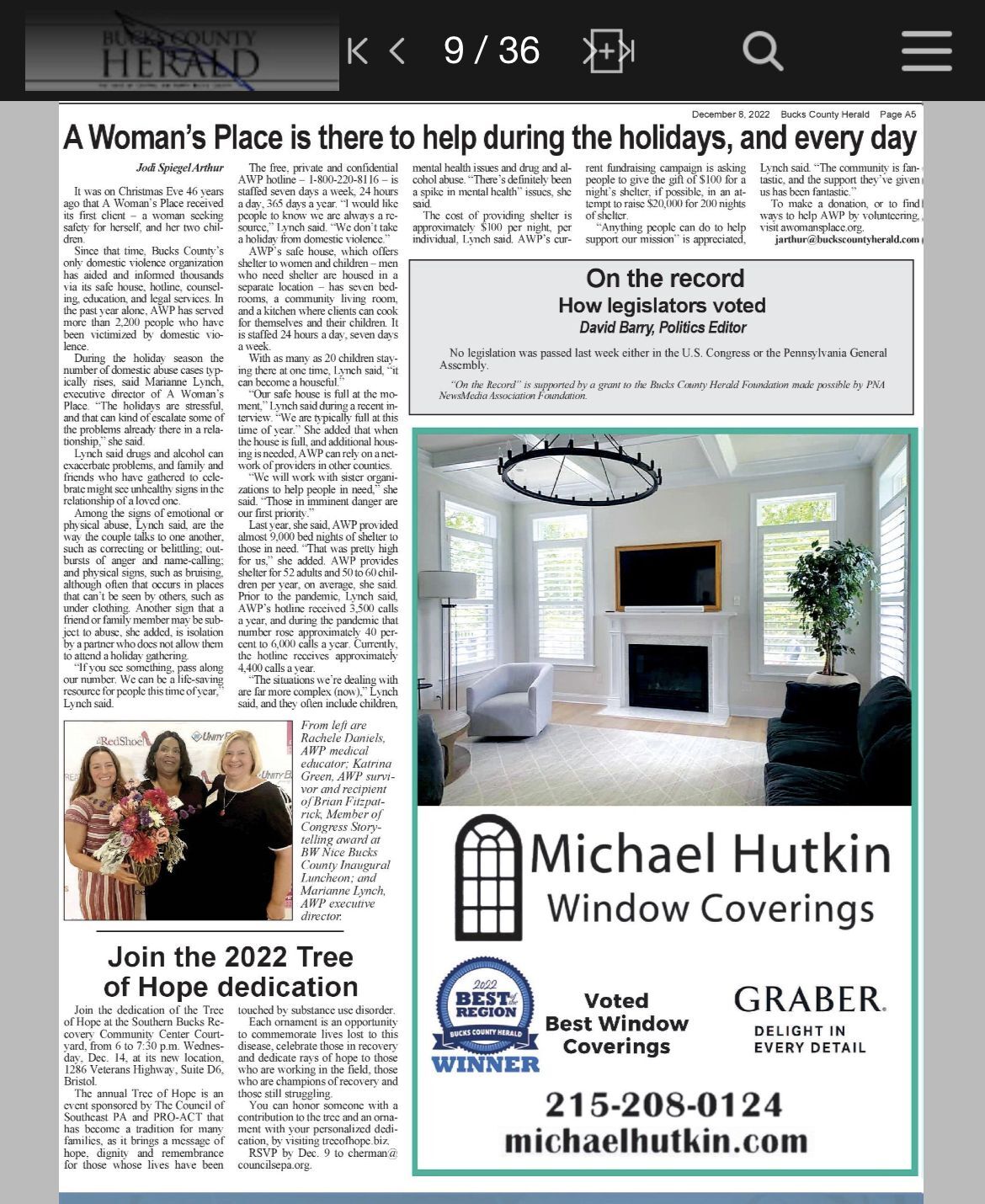 A Woman's Place is there to help during the holidays, and every day
Jodi Arthur | December 8, 2022 | Bucks County Herald
It was on Christmas Eve 46 years ago that A Woman's Place received its first client – a woman seeking safety for herself, and her two children.
Since that time, Bucks County's only domestic violence organization has aided and informed thousands via its safe house, hotline, counseling, education, and legal services. In the past year alone, AWP has served more than 2,200 people who have been victimized by domestic violence.
During the holiday season the number of domestic abuse cases typically rises, said Marianne Lynch, executive director of A Woman's Place. "The holidays are stressful, and that can kind of escalate some of the problems already there in a relationship," she said.
Lynch said drugs and alcohol can exacerbate problems, and family and friends who have gathered to celebrate might see unhealthy signs in the relationship of a loved one.
Among the signs of emotional or physical abuse, Lynch said, are the way the couple talks to one another, such as correcting or belittling; outbursts of anger and name-calling; and physical signs, such as bruising, although often that occurs in places that can't be seen by others, such as under clothing. Another sign that a friend or family member may be subject to abuse, she added, is isolation by a partner who does not allow them to attend a holiday gathering.
"If you see something, pass along our number. We can be a life-saving resource for people this time of year," Lynch said.
The free, private and confidential AWP hotline – 1-800-220-8116 – is staffed seven days a week, 24 hours a day, 365 days a year. "I would like people to know we are always a resource," Lynch said. "We don't take a holiday from domestic violence."
AWP's safe house, which offers shelter to women and children – men who need shelter are housed in a separate location – has seven bedrooms, a community living room, and a kitchen where clients can cook for themselves and their children. It is staffed 24 hours a day, seven days a week.
With as many as 20 children staying there at one time, Lynch said, "it can become a houseful."
"Our safe house is full at the moment," Lynch said during a recent interview. "We are typically full at this time of year." She added that when the house is full, and additional housing is needed, AWP can rely on a network of providers in other counties.
"We will work with sister organizations to help people in need," she said. "Those in imminent danger are our first priority."
Last year, she said, AWP provided almost 9,000 bed nights of shelter to those in need. "That was pretty high for us," she added. AWP provides shelter for 52 adults and 50 to 60 children per year, on average, she said. Prior to the pandemic, Lynch said, AWP's hotline received 3,500 calls a year, and during the pandemic that number rose approximately 40 percent to 6,000 calls a year. Currently, the hotline receives approximately 4,400 calls a year.
"The situations we're dealing with are far more complex (now)," Lynch said, and they often include children, mental health issues and drug and alcohol abuse. "There's definitely been a spike in mental health" issues, she said.
The cost of providing shelter is approximately $100 per night, per individual, Lynch said. AWP's current fundraising campaign is asking people to give the gift of $100 for a night's shelter, if possible, in an attempt to raise $20,000 for 200 nights of shelter.
"Anything people can do to help support our mission" is appreciated, Lynch said. "The community is fantastic, and the support they've given us has been fantastic."
To make a donation, or to find ways to help AWP by volunteering, visit awomansplace.org.
TEENS AND TECH BY MARIANNE G. LYNCH, Executive Director
February was National Teen Dating Violence Awareness month. As the mom to four boys, one of whom is 16, this is a topic that is particularly close to my heart. 
I think it would be tough to be a teen today with the rise of technology, the increased isolation the pandemic has brought and the pressure to succeed. These are challenging enough but add the pressure of trying to navigate romantic relationships can seem a bit overwhelming. Teens often rely on the models they have witnessed, what they've seen on-line and on TV and in their own social networks as guidance on how to navigate successfully through a relationship. When those models are flawed, teens have difficulty identifying what a healthy relationship looks like. In fact, studies indicate that 1 in 3 teens will experience some form of dating violence or abuse within their intimate relationships.
Tech is an area where teens get all sorts of mixed messages – from social media platforms to texting to the ever-present trends like the Tide pod challenge. Teens navigate a minefield of technology challenges that can often be abused or mishandled during a relationship.  What can start out innocently enough (exchanging pictures, giving your love interest access to your phone) can sometimes turn into an effort to exert power and control over another.
AWP addresses the intersection between tech and dating violence in our educational programming offered in Bucks County schools from 4th grade through high school. Much of our educator's focus is talking to kids and teens about healthy boundaries and safe use of technology as well as helping them identify when relationships are unhealthy or have poor boundaries. While they are in our schools 5 days per week 9 months of the year, there are still many kids and teens who we haven't been able to reach yet.
Thankfully there are many resources to help parents and caregivers navigate this subject and help us start the conversation about the digital lives of teens. This month, our partners at the National Network to End Domestic Violence have put together some great resources for identifying examples of technology abuse, ways to talk to teens about technology use and dating violence and uses and misuses of popular apps. https://www.techsafety.org/blog/2022/2/2/new-teens-amp-tech-resources-for-teen-dating-violence-awareness-month
If you would like AWP's education department to connect with your group to talk about healthy teen relationships and some signs of unhealthy relationships, contact me so that we can get the conversation started. mlynch@awomansplace.org.  
AWP CELEBRATES INTERNATIONAL WOMEN'S DAY
Today, March 8th is International Women's Day and here at A Woman's Place we are taking this year's call to action #ChoosetoChallenge to heart with everything we do.
We know that 1 in 3 women will experience violence at the hands of an intimate partner during their lifetime. 1 in 3 – let that sink in for a moment. Think about who that is - it is you, your mother, your sister, your aunt, your daughter, your friend, your teacher, your coach, your mentor…These are people you know, people close to you who have experienced violence at the hands of a partner.
But what if we chose to challenge the idea that this number is far too high and that it could be lowered or even eliminated? What if we stepped up and said that this was unacceptable? What would happen if women did not fear for their lives in the context of what should be a safe, loving, nurturing, relationship?
First, and probably best, women would not just survive, they would thrive. Currently, 1 in 3 female murder victims are killed by intimate partners. 72% of all murder-suicides are perpetuated by intimate partners and of those, 94% of murder-suicide victims are female. Imagine if women did not have to fear for their very lives and the lives of their children. They would be able to plan, grow, learn, and empower themselves and their children. Women would be stronger, and families and communities would be stronger too.
Second, their children would have the opportunity to grow up healthy and strong. According to UNICEF, the single best predictor as to whether a child will become a victim or perpetrator of domestic violence is that they have grown up in a household where there is domestic violence present. The trauma of DV often manifests itself in behavioral, physiological and physical challenges in children. Imagine removing DV from their lives - what would be the impact on future generations?
Third, economically our community would be better. According to the National Coalition Against Domestic Violence, it is estimated that DV costs our economy between 8.5 billion and 12.6 billion dollars per year in lost wages, court costs, law enforcement, medical costs, child protective services, incarceration and more.  Victims of DV also lose 8 million days of paid work due to DV. That is the equivalent of 32,000 full time jobs. Imagine if there were less stressed placed on the workforce, law enforcement, the courts, children and youth services, the prisons and more. How could our communities reallocate that funding in a more positive way to lift women up?
Fourth, society would benefit. From this work, we also know that domestic violence not only affects mostly women, but we also know that for women of color, the statistics are even worse with 41% of women of color being the victim of DV in their lifetimes. Often, these women have an added burden of not being believed, being arrested themselves, of having their children removed from their homes and of being outcast in their communities because they called for help. The toll that DV takes on women of color is an exhausting one and one that these women should no longer have to carry.
Imagine what would improve for all of us if we #choosetochallenge. On this International Women's Day, I ask you to #choosetochallenge what has been acceptable, to tolerate it no longer and take a stand for women.