What is In Full Swing?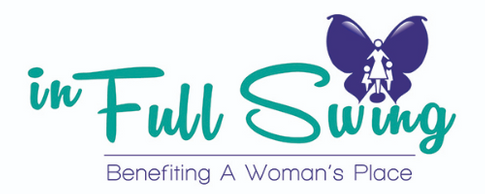 In Full Swing is an idiom meaning at the peak of activity and moving forward. It is a synonym for flourishing which is the vision for A Woman's Place - a society where all individuals are safe in their relationships and can flourish.
For more information about In Full Swing, contact In Full Swing Store Manager, Donna Fedorak, at 215.340.0120 or via email at Dfedorak@awomansplace.org. 
We are Open!!!
Store Hours: Tuesday-Saturday 10am to 4pm
Donation Hours: Thursday, Friday and Saturday 10am to 11:30am 
at front garage door only.
Please put clothing and shoes in clean shopping or trash bags.  We are not accepting boxes or containers at this time.
Thank you for your generosity and patience!
---
In Full Swing is much more than a thrift store, it's a treasure hunt.
Come meet our friendly and dedicated staff who are more than happy to personalize your shopping experience. Ask for Donna or Lara! Our passion is providing everyone with a safe environment to flourish. We empower our clients to develop their own personal and professional styles and wardrobes, at no cost to them.
In Full Swing directly benefits A Woman's Place and is one of the finest examples of community partnership. The success of this enterprise depends on the generosity of volunteers, donors, loyal customers, and dedicated staff. 100% of your donations and purchases support the clients and programs of A Woman's Place. Thank you for ensuring the success of the thrift store and A Woman's Place and for helping us to foster a safe and flourishing future.
Donations
In Full Swing appreciates your donations.

We accept donations Thursday-Saturday 10:00am to 11:30 am only. Please do not leave any donations when store is closed. When dropping off donations our friendly staff is always ready to assist you. When bringing your clothing donations, we request that they be brought in clean shopping or trash bags
We accept:
All clothing (including vintage and costumes), shoes, handbags, and accessories
All jewelry
New underwear and socks
Home Decor, including glassware, pottery, new candles, wall art, collectibles, vintage items
Multimedia - DVD's, CD's, and records
New toys only
Sealed puzzles and games
Children's Books (children's books only please)
If you have unique items that do not fit this list, please do not hesitate to call us at 215.340.0120.
We do not accept:
Dirty, chipped, or broken items of any kind
Bedding, Sheets, Pillows (new or used, we cannot accept these items at this time)
Electrical items, anything with a cord
Hangers (any type)
Silk flowers and plants
Tupperware and Rubbermaid plastic products
Photo albums
Printers and fax machines
Books (we can accept children's books only)
Pyrex
VHS tapes
The exception to the above is if it is new and in unopened box.
If you are curious as to the kinds of things we sell at In Full Swing, we welcome you to visit and shop!
---
225 West State St., Doylestown, PA 18901
215.340.0120
Shopping hours: Tuesday– Saturday 10 a.m. – 4 p.m.
Donation hours: Thursday, Friday and Saturday 10:00am to 11:30am only
 
Recycling
We also accept unwearable clothing for recycling. After you drop off your donation, give yourself a treat and shop for great values...and enjoy knowing that your dollars support making the community safer for everyone!