Peace Works Camp
---
"If we are to teach real peace in this world, we shall have to begin with the children." Mahatma Gandhi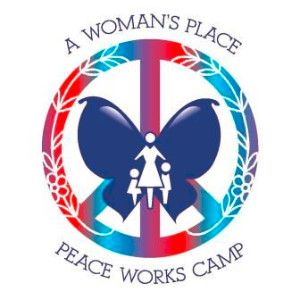 At Home with Peace Works Camp! 
Due to the COVID-19 pandemic, this year's Peace Works Camp was held in an entirely online format. In August 2020, Camp Staff offered "live" Camp Activities via Zoom, as well as recorded Camp Activities that families could view from home. Below are the links to these At Home with Peace Works Camp Activities, hosted by our phenomenal Camp Staff & Volunteers. We invite you to explore them and please feel free share with others!
"Kid President" and How To Be A Hero
"In Their Shoes" - Jason's Story
"In Their Shoes" - Haylie's Story
Peace Works Camp
A Woman's Place (AWP) Peace Works Camp is a week-long summer camp for students in grades K-6, with leadership development opportunities available through our Advocates-in-Training (AIT) program  for students in grade 7-9. Young adults in grades 10-12 can volunteer as Teen Counselors. This camp represents an extension of AWP's successful Peace Works curriculum currently delivered during the school year in classrooms all across Bucks County.  Activities, games, and crafts focus on building positive self-esteem, developing leadership skills, promoting healthy relationships, and encouraging teamwork.  
---
For more information about A Woman's Place Peace Works Camp, please contact Director of Education & Outreach, Lark Irwin at Lirwin@awomansplace.org.