Understanding Abuse
Domestic violence, also known as intimate partner violence, can be defined as a pattern of abusive behaviors by one or both partners in an intimate relationship such as marriage, dating, family, friends, or cohabitation. The harm may be physical, sexual, psychological, or financial and can occur among heterosexual or same-sex couples and does not require sexual intimacy.
Violence against one person by another is wrong, whether the abuser is a current or past spouse, boyfriend, or girlfriend; someone you date; a family member; an acquaintance; or a stranger. If you are experiencing violence you are not at fault. You did not cause the abuse to happen and you are not responsible for the violent behavior of someone else.
For more information about domestic violence or A Woman's Place (AWP), or to access and programs or services, call our free, private, and confidential 24-hour hotline at 1.800.220.8116.
Brochures & Pamphlets
Power and Control Wheel
Abuse is a choice, used to gain power and control over another person. Abuse is a systematic pattern of behavior that can be physical , psychological, sexual, economic, or other selective acts of violence (such as destroying property or possesions, hurting pets, etc.) to instill fear in the individual being controlled.
The hub of the wheel is the intention of all tactics to establish power and control.

Each spoke of the wheel describes a tactic.

The rim of the wheel, which gives it strength and holds it together, is fear and physical abuse, or the threat of it.
The Power and Control Wheel effectively outlines the entire scope of abuse, from verbal to emotional to physical, although it is not an exhaustive list of abusive tactics and each one does not apply to every person experiencing abuse.
Click link to download a printable version of the Power and Control Wheel.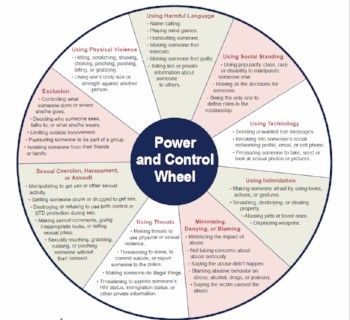 Equality Wheel
The Equality Wheel provides a graphic representation of what a healthy relationship may look like. Placed side by side with the Power and Control Wheel, it is easy to recognize the drastic differences as well as how behaviors need to change in an abusive relationship for it to be healthy. 
Click link to download a printable version of the Equality Wheel.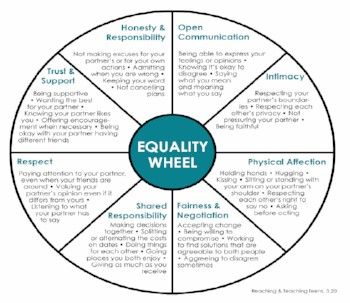 Disclaimer
The information on and provided through the website of A Woman's Place and other Internet information sources to which it refers is intended to provide support and general information and should not be used to replace professional counseling, therapy, and/or legal advice. Do not use the information found on www.awomansplace.org as a substitute for professional evaluation and treatment and/or consultation with an attorney.
The users of www.awomansplace.org assume all risks of use and shall indemnify and hold A Woman's Place and its directors, officers, employees, and agents harmless from and against all damages, liabilities, losses, costs, and expenses, including reasonable attorney's fees arising out of or related to use of information and/or services offered and/or presented on this website.
A Woman's Place strives to keep information on this website accurate and timely, but cannot guarantee the timeliness, accuracy, currency, or quality of information appearing, published, or archived on the website. A Woman's Place may make improvements and/or changes to the information, graphics, and pictures on the website at any time.