Peace Works Camp
---
"If we are to teach real peace in this world, we shall have to begin with the children." Mahatma Gandhi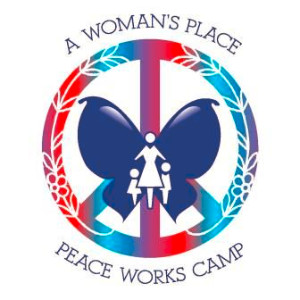 A Woman's Place (AWP) Peace Works Camp, sponsored by Doylestown Presbyterian Church (DPC), is a week-long summer camp for students in grades K-5, with leadership development opportunities available through our Advocates-in-Training (AIT) program for students in grade 6-8. This camp represents an extension of AWP's successful Peace Works curriculum currently delivered during the school year in classrooms all across Bucks County.  Activities, games, and crafts focus on building positive self-esteem, developing leadership skills, promoting healthy relationships, and encouraging teamwork.
---
August 12, 2016 marked the end of our FIFTH (and most fun!) summer of Peace Works Camp. While we are sad that this year's fun has already come to an end, we are thrilled to report back that our campers, Advocates-in-Training, counselors, and staff had two memorable and fun-filled weeks!  Each day from August 1st through August 12th, 75 students entering grades K-8 came together to participate in games and activities promoting healthy friendships, exercise their creativity during craft sessions, and learn invaluable lessons about their own self-worth.  As Camp came to a close, each child left with homemade crafts, exciting new books to read, a tie-dyed Peace Works Camp t-shirt signed by their fellow campers and Camp Counselors (which they dyed themselves!), and, most importantly, plenty of new friends and happy memories. 
Please click here to see photos of our Camp in action on Week 1 and on Week 2!
---
A Woman's Place would like to thank the following for making Peace Works Camp possible:
Our gracious host, Doylestown Mennonite Church
Our generous funders, Doylestown Presbyterian Church
Our discount t-shirt providers, Mr. Dee's Tees
Our sweet treat donors, Sweet Pea Ice Cream
Our faithful helpers, all Peace Works Camp AITs and Camp Counselors
Our trusty grown-ups, all Peace Works Camp families and caregivers
Our new friends, all campers!
Because of the unfailing support of all the fabulous people above, Peace Works Camp has been growing.  And…we are excited to announce that we'll be expanding in 2017!  Stay tuned for more information, including registration paperwork, in January 2017.
For more information about A Woman's Place Peace Works Camp, please contact Jen at 215.343.9241 x117 or Jhinds@awomansplace.org.
---
Click link below to download Peace Works Camp FAQ's