Volunteering at AWP
Thank you for your interest in volunteering at A Woman's Place (AWP)! We are incredibly fortunate to have the support of such a thriving volunteer community. AWP depends on the many volunteers who give so generously to our organization. Our work is made possible by the support and dedication of these phenomenal individuals!
Please use the following links to learn more about AWP's:
---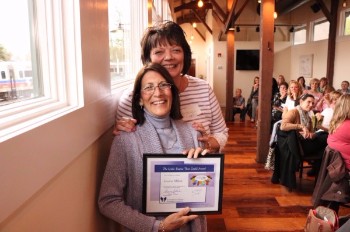 We love each and every one of our volunteers, so we do our best to make sure they know it! Every year we hold a special Volunteer Appreciation Night with food and drink, awards, raffles, and all kinds of fun! If you want to see photos from our latest Volunteer Appreciation Night you can click the picture above or Click Here.
For any additional information or questions about volunteering at A Woman's Place, contact Volunteer Manager, Lark Irwin, at 215.343.9241 x124 or via email at Lirwin@awomansplace.org.
---